VitaZinc – Immunity support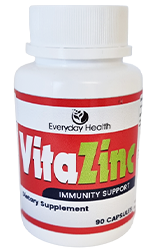 VitaZinc is an immunity boosting health supplement packed with Zinc and Vitamin C formulated to fend off those nasty viruses and that can cause disease.

The combination of Zinc and Vitamin C working synergistically together has been shown in several studies to be effective against various viral infections, including the common cold, where Zinc has been shown to reduce cell binding which inhibits replication of the virus.

Not only has Zinc been shown to hinder viral replication, but it supports immune cell activity, including natural killer cells. While Vitamin C is an incredible immune booster that plays an important roll in many of the body's mechanisms, including fueling White blood cells which attack viruses in your body.


What's the dose?
During flu season or in times of viral pandemic take 1 capsule daily or as advised by your doctor. In times of contracting a virus take 1 capsule twice daily for 5 days, then return back to 1 capsule daily.

What's in the pills?
Each capsule contains high dose 350mg Vitamin C (4x daily requirement) and 66mg of Zinc acetate equal to 20mg of elemental zinc (2x Daily requirement).

Are there any drug interactions?
Yes this could interfere with other medications, if you are taking other drugs or supplements check with your doctor first.

Are there any side effects?
There are no known side effects if taken as directed

How Long Does Delivery take?
Orders are shipped daily Monday to Friday. If you order before 2pm New Zealand customers will receive it the following business day, while international shipments take 1 - 2 weeks. We will email you a notification and tracking number once your order is dispatched.

Is it Guaranteed?
Yes. We only manufacture and sell the most quality and effective products and offer a 100% Satisfaction, 60 day, money back guarantee. See FAQ page for full details



Live reviews from real customers.
Results may vary from person to person.