Horny Goat Weed - Aphrodisiac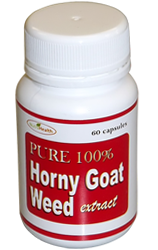 Horny goat weed also known, among other things as Yin Yang Huo or Epimedium, has been used as a sex booster for hundreds of years and was discovered quite accidentally by goat herders who noticed that their goats became sexually aroused after eating the weed.

Our Pure Horny Goat Weed concentrate has been refined, had the active ingredients extracted and produced into an easy to take capsule, designed for both men and woman who are looking to support their libido and sexual health.


Whats the recommended dose?
Most people take 1 or 2 capsules as required. If you are taking for erectile function 2 capsules should be consumed 1 hr before sex.

Will this help with impotence?
Horny Goat Weed is a great natural alternative for supporting erectile function.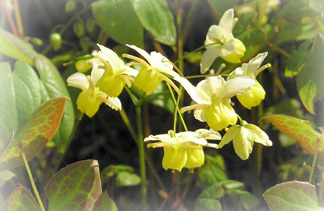 What will I experience when taking Horny Goat Weed?
Men and woman may experience increased libido.

Are there side effects?
The use of Ying Yang Huo (Horny goat weed) is not advised to the people suffering of insomnia, low blood pressure, or heart problems. Usually Horny Goat Weed has no side effects other than the urge to have sex more often, however if you have any serious health concerns, heart conditions, or taking other medications, review the product with your doctor.

What do the capsules contain?
Each capsule contains 500mg Horny Goat Weed extract (Epimedium) standardized to 20% Icariin. Don't be fooled by cheaper products, that contain just Horny Goat Weed powder containing less than 1% Icariin, those products will have little effect, as you would need to take about 30 pills. When you purchase our pills you will be getting a quality concentrated extract, which is over 20x the strength of standard powder, and requires just 1 or 2 capsules.

Are there any drug interactions?
Horny Goat weed may effect anticoagulants and blood pressure medications. If you are taking any supplements or drugs check with your doctor first.

Do I need a prescription?
No. You do not need any prescription, or embarrassing doctors visits to purchase and use HGW. However, if you are on medication or suffering any serious health issues check with your doctor first.

How Long Does Delivery take?
Orders are shipped daily Monday to Friday. If you order before 2pm New Zealand customers will receive it the following business day, while international shipments take 1 - 2 weeks. We will email you a notification and tracking number once your order is dispatched.

Is it Guaranteed?
Yes. We only manufacture and sell the most quality and effective products and offer a 100% Satisfaction, 60 day, money back guarantee. See FAQ page for full details



Live reviews from real customers.
Results may vary from person to person.