CoQ10 - Coenzyme Q10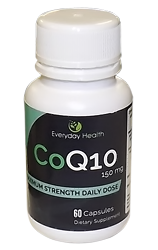 Coenzyme Q10, also known as ubiquinone, ubidecarenone, coenzyme Q, and abbreviated at times to CoQ10, CoQ, or Q10 is a substance similar to a vitamin. It is found in every cell of the body. Your body makes CoQ10, and your cells use it to produce energy your body needs for cell growth and maintenance. It also functions as an antioxidant, which protects the body from damage caused by harmful free radicals. CoQ10 is naturally present in tiny amounts in a wide variety of foods, but levels are highest in organ meats such as heart, liver, and kidney, as well as beef, soy oil, sardines, mackerel, and peanuts.

As we age, naturally produced amounts of q10 lowers, so q10 supplementation may benefit the elderly more than the young, however athletes of all ages use it to speed workout recovery time. CoQ10 has been studied as beneficial to manage migraine headaches, low sperm count, muscular dystrophy, Parkinson's disease, gum disease, low energy, heart health, lowering blood pressure, and many other conditions.

STOCK UP! SALE NOW ON!
How do I take it?
Take 1 capsule per day with a glass of water, or as directed by your doctor.

What is in your capsules?
Our capsules contain 150mg of Ubiquinone CoQ10 with 150mg of rice powder.

What is your q10 made from?
Unlike synthetic brands, our q10 is totally natural. Its made by fermenting a specific strain of the Rhodobacter Sphaeroides micro organism, and after a purification and process, is the product of coenzyme Q10.

How long before I start to notice benefits?
The effects of COQ10 can be noticed 2 hours or less after consumption. Managing Problems like lethargy and tiredness. The antioxidant, benefits will be noticed after just 1 week.

Do I need a prescription?
No. Because Q10 is a health supplement. You do not need to see a doctor or get a prescription. However if you are on medication or have any serious health concerns check with your doctor first.

Is there any side effects?
Coenzyme Q10 supplements have few reported side effects. The most common is an upset stomach. This is usually rectified by consuming with food. Although not common, other side effects could include rashes, upper abdominal pain, dizziness, sensitivity to light, irritability, headache, heartburn, and fatigue. If you do suffer any side effects, stop taking and consult your doctor.

Are there any Drug interactions?
CoQ10 supplements can interact with some medications, including beta-blockers, some antidepressants, and chemotherapy drugs. Your doctor might need to change your statin dosage if you also take CoQ10 supplements. Make sure you consult your doctor before taking CoQ10, if you are on other medication.

How Long Does Delivery take?
Orders are shipped daily Monday to Friday. If you order before 2pm New Zealand customers will receive it the following business day, while international shipments take 1 - 2 weeks. We will email you a notification and tracking number once your order is dispatched.

Is it Guaranteed?
Yes. We only manufacture and sell the most quality and effective products and offer a 100% Satisfaction, 60 day, money back guarantee. See FAQ page for full details



Live reviews from real customers.
Results may vary from person to person.