Ultra Cal - Calcium Supplement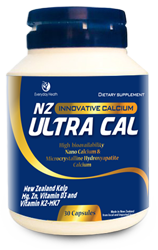 Calcium is an essential mineral used by our bodies to build strong teeth and bones, and healthy tissue. A calcium rich diet can be beneficial for pregnant and nursing mothers, people who are physically active, menopausal women and developing children. Calcium deficiency might lead to osteoporosis later in life.

ULTRA CAL is a calcium supplement used to magage calcium deficiency and can be helpful to those with calcium deficient diets or where the bodies need for calcium out weighs calcium intake. It contains Nano calcium, and MCHA microcrystalline calcium, combined with the co-factors Vitamin K2 and D3 and other minerals to help provide and support the absorption of calcium.

What is the dose?
The usual dose is 1 cap per day or as directed by your doctor.

What do the capsules contain?
Each gelatin (bovine) capsule contains

Nano Calcium Carbonate
Microcrystalline hydroxyapatite calcium
Vitamin K2-MK7
Vitamin D3
Sea Kelp
Zinc
Magnesium Oxide


Are there side effects?
In general, you will not meet any side effects if taken as directed. If you do, stop using and check with your doctor.

Are there any cautions?
In case of any serious health problems, or on other drugs or supplements, consult a doctor before using.

How Long Does Delivery take?
Orders are shipped daily Monday to Friday. If you order before 2pm New Zealand customers will receive it the following business day, while international shipments take 1 - 2 weeks. We will email you a notification and tracking number once your order is dispatched.

Is it Guaranteed?
Yes. We only manufacture and sell the most quality and effective products and offer a 100% Satisfaction, 60 day, money back guarantee. See FAQ page for full details



Live reviews from real customers.
Results may vary from person to person.