Testosterone 500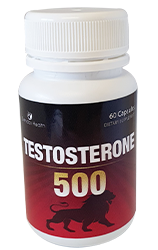 Testosterone 500, is a potent power packed combination of herbal extracts that promote healthy testosterone levels. Tongkat ali, tribulus terresteris, and horny goat weed have been scientifically blended to create a product to naturally assist the bodies testosterone production and optimize the bodies testosterone levels.

Testosterone is the male sex hormone, the benefits of better testosterone can include, improved muscle tone, improved energy, & improved sexual performance.




Whats the dosage?
Take 2 capsules daily with water.


What is it used for?
Its often used as an aphrodisiac and to support erectile function in men. Its also used by athletes looking to manage their testosterone levels, and increase stamina and muscle mass.

What does it contain?
It contains concentrated extracts of Toingkat ali, Horny goat weed, and Tribulus.

Is there any side effects?
Generally you will not have any side effects if taken as directed. However, on the rear occasion you may experience sleeplessness, nausea or blurred vision. If you experience any adverse effects stop taking and consult your doctor.

How Long Does Delivery take?
Orders are shipped daily Monday to Friday. If you order before 2pm New Zealand customers will receive it the following business day, while international shipments take 1 - 2 weeks. We will email you a notification and tracking number once your order is dispatched.

Is it Guaranteed?
Yes. We only manufacture and sell the most quality and effective products and offer a 100% Satisfaction, 60 day, money back guarantee. See FAQ page for full details



Live reviews from real customers.
Results may vary from person to person.