STALLION XL - ERECTILE FUNCTION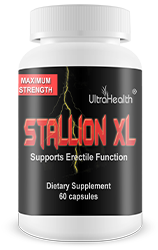 STALLION XL is a powerful and advanced supplement Supplement for men of all ages to supports erectile function.
The perfected blend of fine botanicals in STALLION XL have been used by the chinese for over 1000 years to support their sexual performance.






How do I take it?
Take 2 capsules daily.

Do I need to have impotence to use this?
No, we have many clients who use this merely as a boost to improve their current sexual performance.

Does this help premature ejaculation?
Yes. We have many customers who use this product to not only support their erections, but also give them more control over ejaculation.

Are there any side effects?
Stallion XL is well tolerated, and you should experience no side effects when taken as directed. Always read the label and always use as directed. If you have any heart conditions, serious health concerns or on medication, check the ingredients with your doctor first.

What are the ingredients?
The sophisticated blend of herbal powders and extracts in each capsule consists of:
• Horny goat weed
• L-Arginine
• Panax ginseng
• Cnidium monnieri
• Dodder seed
• Tribulus terrestris
• Oat straw
• Saw palmetto
• Tongkat ali
• Curculigo orchioides
• Ginkgo biloba
• Piperine

How Long Does Delivery take?
Orders are shipped daily Monday to Friday. If you order before 2pm New Zealand customers will receive it the following business day, while international shipments take 1 - 2 weeks. We will email you a notification and tracking number once your order is dispatched.

Is it Guaranteed?
Yes. We only manufacture and sell the most quality and effective products and offer a 100% Satisfaction, 60 day, money back guarantee. See FAQ page for full details



Live reviews from real customers.
Results may vary from person to person.