Quercetin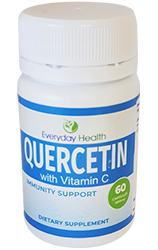 Quercetin is a flavonoid extracted from Plants with anti-inflammatory properties that acts as a powerful antioxidant to fight free radicals that cause oxidation to cells. This naturally occurring phytochemical shows promising bioactive effects to support the immune system.

Quercetin by itself is not very well absorbed into the body, so we have combined it with vitamin C which greatly improves absorption, while at the same time also amplifies quercetins immune boosting properties.


Whats the dose?
The usual dose is 1 capsule per day with a glass or water.

What do the caps contain?
Each gelatin capsule contains 450mg of Quercetin powder (95% pure extract) derived naturally from the buds of the Sophorae Japonica plant, and 50mg of vitamin C to maximise the bioavailability.

Why do people take it?
People take quercetin to help manage a variety of issues, including: Heart and vessel problems, Lowering blood pressure, Prostate infections, Preventing upper respiratory infections, Allergies, & Disease prevention. Some athletes use it support endurance and athletic performance.

Are there any precautions?
Check with your doctor if you are taking other supplements or drugs.

How Long Does Delivery take?
Orders are shipped daily Monday to Friday. If you order before 2pm New Zealand customers will receive it the following business day, while international shipments take 1 - 2 weeks. We will email you a notification and tracking number once your order is dispatched.

Is it Guaranteed?
Yes. We only manufacture and sell the most quality and effective products and offer a 100% Satisfaction, 60 day, money back guarantee. See FAQ page for full details



Live reviews from real customers.
Results may vary from person to person.