NZ-Prostate Max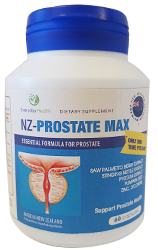 NZ Prostate Max is a fine blend of herbs to support normal prostate health, and manage enlarged prostate.







How do I take it?
Take 2 capsules per day, on an empty stomach, or as directed by your health care professional.


What does it contain?
NZ-Prostate max contains the following ingredients: Saw Palmetto Berry Extract, Stinging Nettle Extract, Pygeum Extract, Pumpkin Seed, Zinc, and Tomato extrct.

Is there any side effects?
Usually you will not experience any side effects if taken as directed, however on the adverse occasions, some may experience: Nausea, dizziness, decreased sex drive, and loss of appetite, unusual or unexplained bruising or bleeding, an unexplained rash, and wheezing or difficulty breathing. If you experience any side effects stop taking and contact your doctor.

Is there any drug interactions?
There could be. If you are taking other drugs or supplements check with your doctor first.

How Long Does Delivery take?
Orders are shipped daily Monday to Friday. If you order before 2pm New Zealand customers will receive it the following business day, while international shipments take 1 - 2 weeks. We will email you a notification and tracking number once your order is dispatched.

Is it Guaranteed?
Yes. We only manufacture and sell the most quality and effective products and offer a 100% Satisfaction, 60 day, money back guarantee. See FAQ page for full details



Live reviews from real customers.
Results may vary from person to person.