Promum Diamond Plus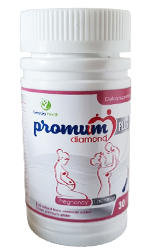 Promum Diamond Plus is a vitamin and mineral and omega3 complex that can support the health of you and your baby.

During pregnancy, a woman's nutrient intake needs grow significantly. Promum Diamond Plus is nutrient rich and formulated for mothers to take before, during, and after pregnancy.

What is the dose?
The usual dose is 1 capsule daily.

What do the capsules contain?
Each gelatin capsure contains 600mg of the finest ingredients. Nutrient rich NZ Oyster fortified with Omega 3 (EPA and DHA), Zinc, Iron, The B Vitamins, Vitamin E, Vitamin D, Vitamin C, folic acid, Magnesium, & Calcium

Who should take this?
Promum Diamond Plus is formulated for mothers and should be taken before and during pregnancy, as well as during lactation. It can also be beneficial for men.

Can I take it if not pregnant?
Yes it will support good health and well being, whether or not you are pregnant.

Should I be taking these drugs while pregnant?
Promum is not a drug. Its a concentrated food supplement full of vital minerals, vitamins, and fatty acids that are already present in foods, however deficient in many diets.

Are there side effects?
You should not experience any side effects if taken as directed. If you do stop taking and consult your doctor.

Are there any drug interactions?
It could interact with some drugs, if you are taking drugs or other supplements you should check with your doctor first.

How Long Does Delivery take?
Orders are shipped daily Monday to Friday. If you order before 2pm New Zealand customers will receive it the following business day, while international shipments take 1 - 2 weeks. We will email you a notification and tracking number once your order is dispatched.

Is it Guaranteed?
Yes. We only manufacture and sell the most quality and effective products and offer a 100% Satisfaction, 60 day, money back guarantee. See FAQ page for full details



Live reviews from real customers.
Results may vary from person to person.