Nattokinase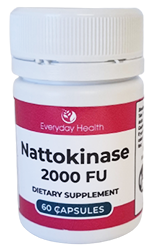 Nattokinase is a natural enzyme produced from the fermentation of boiled soybeans by a bacterium called Bacillus subtilis natto. It has been used in traditional Japanese medicine for centuries.

Nattokinase has been found to have fibrinolytic activity, which means it can dissolve blood clots by breaking down fibrin, a protein that helps form blood clots. This makes nattokinase potentially useful to manage conditions related to blood clots.


Whats the dose?
Take 1 capsule daily. When taking nattokinase, it is important to drink plenty of water to help with absorption and to reduce the risk of gastrointestinal side effects.

What do the pills contain?
Each vege capsule contains 2000 FU. Nattokinase FU (fibrinolytic unit) is a measure of the activity of nattokinase. It indicates the ability of nattokinase to break down fibrin, which is a protein that plays a role in blood clot formation. One FU is defined as the amount of nattokinase required to dissolve 1.0 mg of fibrin in 1 minute under specific laboratory conditions.

Is there any drug interactions?
There could be. If you are taking other supplements or drugs check with your doctor first. Avoid taking nattokinase with aspirin, warfarin, or other anticoagulants.

How Long Does Delivery take?
Orders are shipped daily Monday to Friday. If you order before 2pm New Zealand customers will receive it the following business day, while international shipments take 1 - 2 weeks. We will email you a notification and tracking number once your order is dispatched.

Is it Guaranteed?
Yes. We only manufacture and sell the most quality and effective products and offer a 100% Satisfaction, 60 day, money back guarantee. See FAQ page for full details



Live reviews from real customers.
Results may vary from person to person.