NZ-Men Forte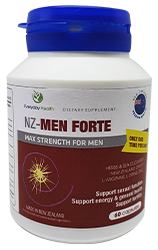 NZ-Men Forte could also be ideal for Athletes looking to support natural hormone balance and strength.

Do you want to go hard in the bedroom? NZ-Men Forte could be the natural solution your body needs. Give your partner the loving they deserve, order your NZ-Men Forte today.


NZ-Men Forte, is a powerful balance of natural ingredients to support natural testosterone levels, and support normal male function, sexual function, fertility, libido, and stamina.
Whats the dose?
The usual dose is 2 capsules once per day, with a glass of water.


What are the ingredients?
Sea Cucumber
Maca Root Extract (Lepidium meyenii )
Fenugreek seed extract
L-Lysine
L-Arginine
Xian Mao (Curculigo Orchioides) extract
Dodder Seed extract
Tribulus Terrestris extract
Tongkat Ali (Eurycoma longifolia Root) Extract
Zinc (from Zinc Acetate)
New Zealand Oyster

Is there any drug interactions?
There could be. Consult your doctor before taking, if you are taking other drugs or supplements.

Are there any side effects?
There are no side effects if taken as directed.

How Long Does Delivery take?
Orders are shipped daily Monday to Friday. If you order before 2pm New Zealand customers will receive it the following business day, while international shipments take 1 - 2 weeks. We will email you a notification and tracking number once your order is dispatched.

Is it Guaranteed?
Yes. We only manufacture and sell the most quality and effective products and offer a 100% Satisfaction, 60 day, money back guarantee. See FAQ page for full details



Live reviews from real customers.
Results may vary from person to person.