K2D3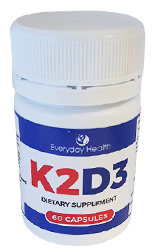 K2D3 is a 2-In-1 Formula containing 25 mcg Vitamin D3 (1000 IU) and 90 mcg Vitamin K2 as MK-7, in vegetarian capsules. These vitamins work synigisticly together to play a role in calcium utilization for optimal bone, joint and heart health. Vitamin D3 is also known to help the immune system stay balanced.






Whats the dose?
Take 1 capsule daily with food. or as advised by your doctor.

How long until it starts working?
The fast release capsules will start working right away.

Is there any side-effects?
You should not experience any side effects if taken as directed.

Is there any precautions?
Check with your doctor first if you are taking other suppelments or drugs.

How Long Does Delivery take?
Orders are shipped daily Monday to Friday. If you order before 2pm New Zealand customers will receive it the following business day, while international shipments take 1 - 2 weeks. We will email you a notification and tracking number once your order is dispatched.

Is it Guaranteed?
Yes. We only manufacture and sell the most quality and effective products and offer a 100% Satisfaction, 60 day, money back guarantee. See FAQ page for full details



Live reviews from real customers.
Results may vary from person to person.