Kiwihealth Joint FX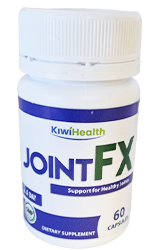 Kiwihealth Joint FX capsules are made from natural sources that give the benefit of supporting the health of tendons and cartilage improving your joint health.

Most people take Joint FX to help with various join conditions.

Whats the dose?
Take 2 capsules per day or as advised by your doctor.

What does it contain?
The carefully formulated blend consists of: Glucosamine, Chondroitin, NAC, Vitamin C, Hyaluronic acid, Turmeric extract, White willow, Alpha lipoic acid, Boswellia, and black pepper.

When does it start working?
You should notice the benefits after just a few days.

How Long Does Delivery take?
Orders are shipped daily Monday to Friday. If you order before 2pm New Zealand customers will receive it the following business day, while international shipments take 1 - 2 weeks. We will email you a notification and tracking number once your order is dispatched.

Is it Guaranteed?
Yes. We only manufacture and sell the most quality and effective products and offer a 100% Satisfaction, 60 day, money back guarantee. See FAQ page for full details



Live reviews from real customers.
Results may vary from person to person.