Fit More Weight Management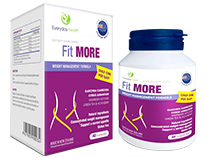 Fit More is a herbal formula formulated to manage weight by supporting a healthy appetite and metabolism


This product is a part of a weight management programme. Weight programmes should include (healthcare) professional advice on diet, exercise and lifestyle changes. This is not a meal replacement and appropriate advice on diet is important. Weight management programmes take time and personal commitment to be effective.
Whats the Dose?
Take 1 capsule a day. 30 munites before food.
Don't exceed more than 2 capsules within 24 hours.

What do the pills contain?
- Garcinia Cambogia Extract
- Green tea Extract
- Acai Berry Extract
- Raspberry ketone

Are there any side effects?
Generally you should not experience any side effects if used as directed, however if you are on medication or suffer any health problems consult your doctor before use.

How Long Does Delivery take?
Orders are shipped daily Monday to Friday. If you order before 2pm New Zealand customers will receive it the following business day, while international shipments take 1 - 2 weeks. We will email you a notification and tracking number once your order is dispatched.

Is it Guaranteed?
Yes. We only manufacture and sell the most quality and effective products and offer a 100% Satisfaction, 60 day, money back guarantee. See FAQ page for full details



Live reviews from real customers.
Results may vary from person to person.