FE FORT - Iron supplement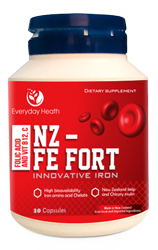 Iron is not only a necessary element for nearly 200 biochemical reactions in human body, including immune activity, hormone production, neuro transmission energy production and DNA, but also an essential element to make Hemoglobin - an important ingredient in red blood cells that play a role in transporting oxygen from the lungs to the organs.

FE FORT is a Iron supplement used to manage Iron deficiency. Each 1 per day dose is formulated with Ferrous Bisglycinate (an iron amino acid chelate) with vitamin co-factors for maximum bioavailability. Its often used by vegetarians, menstrual women, pregnant women, athletes, adolescents, and the elderly.

What is the dose?
The usual dose is 1 capsule day or as advised by your doctor.

What do the capsules contain?
Each gelatin capsule contains:
- Iron (as Ferrous Bisglycinate Chelate)
- Folic acid
- Vitamin B12
- Vitamin C
- Kelp
- Chicory inulin

Are there side effects?
In general, you will not experience any side effects if taken as directed. However, in rare cases that you might suffer from constipation or nausea. If you experience any side effects, stop using and consult your doctor.

Are there any cautions?
In case of kidney disease, serious health problems, or on other drugs or supplements, consult a doctor before using.

How Long Does Delivery take?
Orders are shipped daily Monday to Friday. If you order before 2pm New Zealand customers will receive it the following business day, while international shipments take 1 - 2 weeks. We will email you a notification and tracking number once your order is dispatched.

Is it Guaranteed?
Yes. We only manufacture and sell the most quality and effective products and offer a 100% Satisfaction, 60 day, money back guarantee. See FAQ page for full details



Live reviews from real customers.
Results may vary from person to person.