Delay - Ejaculation function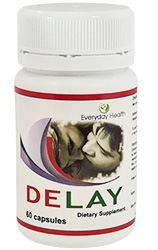 Premature ejaculation effects 30% of men at some point of their lives, Most studies show that men with Premature Ejaculation typically last somewhere between 15 and 60 seconds. For some men the problem is short lived, or only happens sporadically, while others can last years or even the rest of their lives.





Delay is a product formulated for men who suffer from premature ejaculation. This fine blend of herbs helps the body manage this embarrassing problem so you can have a normal sex life.
Whats the dose?
The usual dose is 2 pills in the evening and you should notice the benifits within the first week of using Delay. The usual course of taking Delay is 3 months (3 bottles). After 3 months you may be able to stop taking Delay while still experiencing the benefits.

Is there any side-effects?
You should experience no side effects when using Delay, if you take as directed. If you have any serious medical or mental conditions, you should check with your doctor.

What are the ingredients?
The sophisticated blend of herbal powders and extracts in each capsule consists of:
• Cnidium monnieri
• Cuscuta chinensis
• Griffonia simplicifolia
• Passiflora incarnata
• Pyridoxine
• Elletaria cardamomum
• Piper nigrum


Are there any drug interactions?
Do not mix with anti-depressants. If you are taking any other drugs or supplements check with your doctor first.

How Long Does Delivery take?
Orders are shipped daily Monday to Friday. If you order before 2pm New Zealand customers will receive it the following business day, while international shipments take 1 - 2 weeks. We will email you a notification and tracking number once your order is dispatched.

Is it Guaranteed?
Yes. We only manufacture and sell the most quality and effective products and offer a 100% Satisfaction, 60 day, money back guarantee. See FAQ page for full details



Live reviews from real customers.
Results may vary from person to person.