Supps NZ Creatine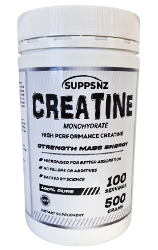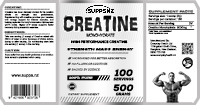 Supps NZ Creatine, is 100% pure with no fillers, flavours or additives. Unlock your athletic potential today! This powerhouse supplement is a game-changer for athletes and fitness enthusiasts. Support strength, power, and muscle growth as creatine maximizes your performance during high-intensity workouts.

With faster recovery times and reduced muscle damage, you'll be back in the game stronger than ever. But it doesn't stop there - creatine also supports cognitive function, memory and mental processing. Trusted by professionals and backed by research, creatine is your secret weapon for achieving peak performance. Take the leap and elevate your fitness journey with creatine today!



What is the dose?
The recommended creatine dose varies depending on factors such as body weight, exercise intensity, and individual tolerance. However, a common dosing strategy is to begin with a loading phase followed by a maintenance phase:

Loading Phase: Typically involves consuming around 20 grams of creatine per day for 5-7 days, divided into 4-5 equal doses. This loading phase helps saturate the muscles with creatine quickly. Maintenance Phase: After the loading phase, a maintenance dose of 3-5 grams per day is generally recommended. This smaller dose is sufficient to maintain elevated creatine levels in the muscles.

What does it contain?
Contains only 100% pure creatine monohydrate, which has been micronised for maximum absorbtion. Each jar is 500g equal to 100 doses. altogether.

Are there drug interactions?
If you are taking other drugs or supplements check with your doctor first

How Long Does Delivery take?
Orders are shipped daily Monday to Friday. If you order before 2pm New Zealand customers will receive it the following business day, while international shipments take 1 - 2 weeks. We will email you a notification and tracking number once your order is dispatched.

Is it Guaranteed?
Yes. We only manufacture and sell the most quality and effective products and offer a 100% Satisfaction, 60 day, money back guarantee. See FAQ page for full details



Live reviews from real customers.
Results may vary from person to person.