NZ-CoQ10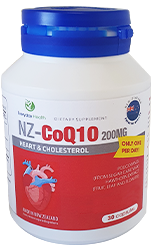 Coenzyme Q10 aka, Q10 or CoQ10 is a vitamin-like, natural antioxidant that occurs naturally in the body and is found in every cell. Within the mitochondria (the powerhouse of the cell), CoQ10 is an important part of ATP synthesis, which creates energy for cellular function. That's why organs with the greatest energy needs – muscles, heart, kidneys and liver – have a higher concentration of CoQ10.

CoQ10 is important io keeping your body functioning properly, and a deficiency usually affects the heart first.

As we age our coQ10 levels can reduce, Taking statins, and some other medications, can inhibit CoQ10 activity and lead to further deficiency, making supplementation even more important.

CoQ10 supplementation is usually taken in times of CoQ10 deficiency.




How do I take it?
Take 1 capsule per day with a glass of water, or as advised by your doctor.


What does it contain?
Each power packed capsule contains: CoQ10 -Ubiquinone (200mg), Hawthorn Extract, Hawthorn Berry extract, and Policosanol.

How long before I start to notice benefits?
The effects of COQ10 can be noticed 2 hours or less after consumption. Managing Problems like lethargy and tiredness.
The antioxidant, benefits will be noticed after just 1 week.

Is there any side effects?
Coenzyme Q10 supplements have few reported side effects. The most common is an upset stomach. This is usually rectified by consuming with food. Although not common, other side effects could include rashes, upper abdominal pain, dizziness, sensitivity to light, irritability, headache, heartburn, and fatigue. If you do suffer any side effects, stop taking and consult your doctor.

Are there any Drug interactions?
CoQ10 supplements can interact with some medications, including beta-blockers, some antidepressants, and chemotherapy drugs. Your doctor might need to change your statin dosage if you also take CoQ10 supplements. Make sure you consult your doctor before taking CoQ10, if you are on other medication, or have serious health issues.

How Long Does Delivery take?
Orders are shipped daily Monday to Friday. If you order before 2pm New Zealand customers will receive it the following business day, while international shipments take 1 - 2 weeks. We will email you a notification and tracking number once your order is dispatched.

Is it Guaranteed?
Yes. We only manufacture and sell the most quality and effective products and offer a 100% Satisfaction, 60 day, money back guarantee. See FAQ page for full details



Live reviews from real customers.
Results may vary from person to person.