Ashwagandha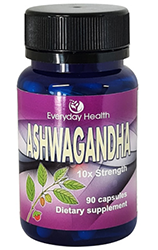 Withania somnifera, known commonly as Ashwagandha, Indian ginseng, or winter cherry is a plant in the Solanaceae or nightshade family that has been commonly used as a medicinal herb in Ayurvedic medicine for more than 3,000 years.

The main phytochemical constituents are triterpene lactones – withanolides, withaferin A, alkaloids, steroidal lactones, tropine, and cuscohygrine. Withanolides are structurally similar to the ginsenosides of Panax ginseng and exerts antioxidant, anti-inflammatory, and immunomodulatory activities.

Traditionally the plant has been used for premature ageing, arthritis, impotence, low libido, amnesia, anxiety, cancer, neurodegenerative and cardiovascular diseases, bipolar disorder, attention deficit hyperactivity disorder (ADHD), balance, obsessive-compulsive disorder (OCD), trouble sleeping (insomnia), tumors, tuberculosis, asthma, a skin condition marked by white patchiness (leukoderma), bronchitis, backache, fibromyalgia, menstrual problems, hiccups, Parkinson's disease, schizophrenia, stress, under-active thyroid (hypothyroidism), and chronic liver disease. Ashwagandha has also been used to manage levels of fat and sugar in the blood.
Whats the Dose?
The usual dose is 1 capsule daily. Depending on your ailment you can take up to 3 capsules throughout the day. Ashwagandha is usually taken with food.

What do the pills contain?
Each gelatin capsule contains 350mg of 10:1 concentrated extract, equivalent to 3.5grams of Ashwagandha.

Are there any side effects?
Known side effects include headache, sleepiness, drowsiness, and stomach upset. If you have side effects lower your dose or consume with food. If side effects continue stop taking and consult your doctor.

What are the drug interactions?
Ashwagandha has several medicinal properties, which can interact with other drugs. Known interactions are Immunosuppressants, Sedative medications, and thyroid hormone medications. If you are taking other supplements or drugs check with your doctor first.

How Long Does Delivery take?
Orders are shipped daily Monday to Friday. If you order before 2pm New Zealand customers will receive it the following business day, while international shipments take 1 - 2 weeks. We will email you a notification and tracking number once your order is dispatched.

Is it Guaranteed?
Yes. We only manufacture and sell the most quality and effective products and offer a 100% Satisfaction, 60 day, money back guarantee. See FAQ page for full details



Live reviews from real customers.
Results may vary from person to person.