Alpha Lipoic Acid (ALA)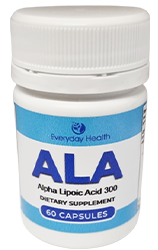 Alpha Lipoic Acid (ALA) is a unique lipid and water soluble antioxidant that is a cofactor in energy production, helping to manage glucose metabolism and the synthesis of glutathione.


Whats the dose?
Take 1 capsule per day on an empty stomach.

What does it contain?
Each gelatin capsule contains 300mg of Alpha Lipoic Acid.

Are there any drug interactions?
Alpha Lipoic Acid is usually well-tolerated. However known side effects are headache, heartburn, nausea, and vomiting. If you do have sideeffects, stop taking and consult your doctor.

Is there any drug interactions?
Could interact with Antidiabetes drugs, Anticoagulants, and thyroid hormones. If you are taking other drugs or supplements check with your doctor.

How Long Does Delivery take?
Orders are shipped daily Monday to Friday. If you order before 2pm New Zealand customers will receive it the following business day, while international shipments take 1 - 2 weeks. We will email you a notification and tracking number once your order is dispatched.

Is it Guaranteed?
Yes. We only manufacture and sell the most quality and effective products and offer a 100% Satisfaction, 60 day, money back guarantee. See FAQ page for full details



Live reviews from real customers.
Results may vary from person to person.