Yacon Root Extract - Good Health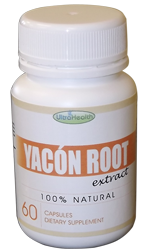 Yacon, also known as the Peruvian ground apple, is a plant native to South America and grown for its crunchy tuberous roots, which are known to contain medicinal properties.

Yacon is used for: its ability to control of blood sugar levels, control of cholesterol levels, help with weight management, lower blood pressure, improve the health of the liver, prevent certain types of cancer, boost digestive health, and strengthen the immune system.






What is in your capsules?
Our capsules contain 500mg of Yacon root extract 10x Strength. Take 2 capsules per day. Each bottle contains 60 pills.

Is there any side effects?
Yacon is well tolerated by the body, however if you experience any you should stop taking immediately and consult your doctor or health care professional. Excessive amounts of Yacon can cause diarrhoea, bloating and gas.

Do I need a prescription?
No. You do not need any prescription, or doctors visits to purchase Yacon. However, if you are on medication or suffering any serious health issues check with your doctor first.

How Long Does Delivery take?
Orders are shipped daily Monday to Friday. If you order before 2pm New Zealand customers will receive it the following business day, while international shipments take 1 - 2 weeks. We will email you a notification and tracking number once your order is dispatched.

Is it Guaranteed?
Yes. We only manufacture and sell the most quality and effective products and offer a 100% Satisfaction, 60 day, money back guarantee. See FAQ page for full details



Live reviews from real customers.
Results may vary from person to person.