NZ Shark Cartilage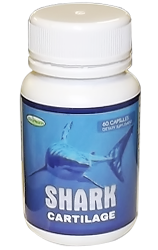 Shark cartilage is the tough material that composes a shark's skeleton, Sharks have no true bone. Their skeletons are made of cartilage. Its made into a dietary supplement by drying then powderising this cartilage, and capsulating into an easy to take pill. The Shark cartilage used in our product, comes from a bi-product of the NZ fishing industry from non-endangered school and rig shark species that have been harvested around New Zealand waters.

Shark cartilage is used for calcium deficiency, supporting immune system, inflammation, psoriasis, wound healing, damage to the retina of the eye due to diabetes, inflammation of the intestine (enteritis), age related vision loss, some types of cancer, and one of its key components, chondroitin sulfate, may have positive effects on sufferers of arthritis.

It is an excellent source of Calcium, Phosphorus, amino acids mucopolysaccharides carbohydrates, and other nutrients that are critical to bone and joint health.

Although its mode of action is accepted by established medical principles, the mechanism, or combination of elements responsible for triggering that action, still remains a mystery.
Whats the dosage?
The usual dose is 2 capsules per day with a glass of water.

How long until I get the benefits?
It depends on the ailment, but usually after the first week of daily dosing.

What are the side effects?
Most people will not experience any side effects if taken as directed, however it could cause a bad taste in the mouth, nausea, vomiting, stomach upset, constipation, low blood pressure, dizziness, high blood sugar, high calcium levels, and fatigue. If you experience any side effects, stop taking and consult your doctor.

Is there any cautions?
There is not enough reliable information about the safety of taking shark cartilage if you are pregnant or breast-feeding. Stay on the safe side and avoid use. Shark cartilage might increase calcium levels, so it should not be used by people whose calcium levels are already too high. And should never be taken by anyone allergic to seafood

How Long Does Delivery take?
Orders are shipped daily Monday to Friday. If you order before 2pm New Zealand customers will receive it the following business day, while international shipments take 1 - 2 weeks. We will email you a notification and tracking number once your order is dispatched.

Is it Guaranteed?
Yes. We only manufacture and sell the most quality and effective products and offer a 100% Satisfaction, 60 day, money back guarantee. See FAQ page for full details