Hemp Protein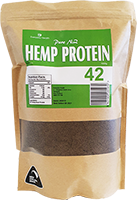 Our Hemp Protein is made from the seeds of NZ grown Hemp plants (Cannabis sativa) and is free of THC and CBD.

After the oil has been extracted from the seeds the remaining bi-product goes through a refining process to produce Hemp protein powder. Typically our Hemp Protein contains 42% pure protein. Hemp is a complete protein, containing all nine essential amino acids that humans must get from food, and is more digestible than other form of plant protein, in fact research shows that up to 98% of the protein produced from hemp seed is digestible. This means that your body can use almost all of the amino acids in hemp protein powder for important bodily functions, such as repair and maintenance.

Hemp Protein is used by Atheletes who require extra protein intake or those who have a protein poor diet.
Whats the dose?
Take 30g (2 scoops) per day, mixed in a smoothy.

How does it taste?
Hemp protein has a slightly nutty flavour.

What is protein?
Protein is made up of amino acids joined together. Hemp protein contains 20 amino acids including all 9 essential amino acids. histidine, isoleucine, leucine, lysine, methionine, phenylalanine, threonine, tryptophan, and valine. Essential amino acids can not be created by the body and must be consumed through food. Amino acids are the building blocks of life, and play a major roll in bodily maintenance, growth and repair.

How Long Does Delivery take?
Orders are shipped daily Monday to Friday. If you order before 2pm New Zealand customers will receive it the following business day, while international shipments take 1 - 2 weeks. We will email you a notification and tracking number once your order is dispatched.

Is it Guaranteed?
Yes. We only manufacture and sell the most quality and effective products and offer a 100% Satisfaction, 60 day, money back guarantee. See FAQ page for full details



Live reviews from real customers.
Results may vary from person to person.