GUARANA HIT - ENERGY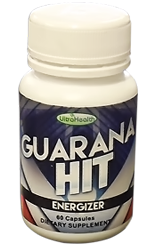 Guarana is a plant named after the Guarani tribe in the Amazon, who brewed drink from the seads. Its a climbing plant in the maple family, Sapindaceae, native to the Amazon basin and common in Brazil. Its seeds contain high concentrations of caffeine. Generally, South America obtains most of its caffeine from guarana.

Guarana is used for weight management, to support athletic performance, as a stimulant, and to manage mental and physical fatigue. It is a frequent addition to energy and weight management products.

Some people also use Guarana to manage low blood pressure and chronic fatigue syndrome (CFS), and to prevent malaria and dysentery. It is also used to enhance sexual desire, to increase urine flow, and as an astringent. Other uses include treatment of ongoing diarrhea, fever, heart problems, headache, joint pain, backache, and heat stress.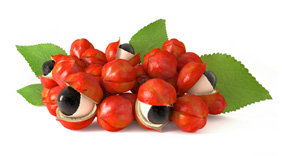 How do i take it?
Take up to 4 capsules as needed. Each capsule contains 50mg of caffeine. Do not exceed 6 per day. To aviod caffeine overdose do not mix with other cafeinated products like energy drinks or coffee and tea beverages. If you suffer any health problems check with your doctor first.

What do the capsules contain?
Contains 500mg Guarana extract, standardized to 10% caffeine.

What is caffeine?
Caffeine is a central nervous system (CNS) stimulant of the methylxanthine class. It is the world's most widely consumed psychoactive drug. Unlike many other psychoactive substances, it is legal and unregulated in nearly all parts of the world. There are several known mechanisms of action to explain the effects of caffeine. The most prominent is that it reversibly blocks the action of adenosine on its receptor and consequently prevents the onset of drowsiness induced by adenosine. Caffeine also stimulates certain portions of the autonomic nervous system.

Are there any drug interactions?
Caffeine can effect the way other drugs work. If you are taking any drugs or supplements check with your doctor first.

Are there any side effects?
Side effects include, raised heart beat, insomnia, jittery ness, and frequent urination. If you have any serious side effects stop taking and consult your doctor.

How Long Does Delivery take?
Orders are shipped daily Monday to Friday. If you order before 2pm New Zealand customers will receive it the following business day, while international shipments take 1 - 2 weeks. We will email you a notification and tracking number once your order is dispatched.

Is it Guaranteed?
Yes. We only manufacture and sell the most quality and effective products and offer a 100% Satisfaction, 60 day, money back guarantee. See FAQ page for full details



Live reviews from real customers.
Results may vary from person to person.