Ginkgo Biloba - Cognitive function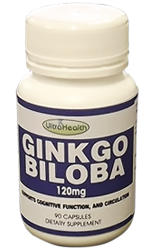 Ginkgo biloba comes from the ginkgo tree, one of the heartiest and oldest trees around. The ginkgo tree has existed unchanged for more than 150 million years. Thanks to modern science we can extract the Phytochemicals from the ginkgo leaves, and provide them to consumers in an easy to take standardized dose.

Each of our capsules contain a 120mg dose, of Ginko Biloba extracted to 24% Ginkgo flavone glycosides, and 6% terpene lactones, to give you the most potent extraction in a single daily dose.

Ginkgo biloba is often used for memory problems, dementia, multiple sclerosis, tinnitus, circulation problems, vision, hearing, sexual dysfunction, premenstrual syndrome, dizziness, and vertigo.

There is evidence indicating that ginkgo is effective in treating Alzheimer's dementia, and is already widely used in Europe, by doctors for treating dementia.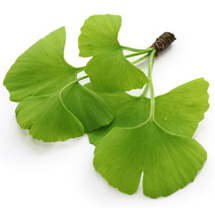 How do i take it and how long for?
It depends on what you are taking it for, and how severe the problem is. Usually you would start with 2 capsules per day for the first week, then lower your dose to 1 capsule daily, and stop once your ailment has been managed.

Alzheimer or dementia sufferers should take a higher dose of 2 everyday for at least 26 weeks.

What are the ingredients?
Each capsule contains: Ginkgo biloba extract 120mg (24% Ginkgo flavone glycosides, and 6% terpene lactones), which has been extracted from the leaves.

Are there any drug interactions?
As with any dietary supplement, care is needed to prevent interactions with other drugs, to avoid adverse effects. You should not take ginkgo if you are on anticoagulants, or SSRI and MAOI antidepressants. if you are taking medication check with your doctor first.

Are there any side effects?
Possible side effects of ginkgo biloba include: Nausea, Diarrhea, Dizziness, Headaches, Stomach ache, Restlessness, Vomiting. If you experience any sideeffects stop taking and consult your doctor.

Do I need a prescription?
No. You do not need any prescription, or doctors visits to purchase Ginkgo. However, if you are on medication or suffering any serious health issues check with your doctor first.

How Long Does Delivery take?
Orders are shipped daily Monday to Friday. If you order before 2pm New Zealand customers will receive it the following business day, while international shipments take 1 - 2 weeks. We will email you a notification and tracking number once your order is dispatched.

Is it Guaranteed?
Yes. We only manufacture and sell the most quality and effective products and offer a 100% Satisfaction, 60 day, money back guarantee. See FAQ page for full details



Live reviews from real customers.
Results may vary from person to person.