Defence - Immunity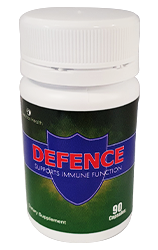 If you're looking for a natural flu remedy you need Defence. For powerful immune support with anti viral action.


Defence will neutralize the activity of the hemagglutinin spikes found on the surface of some types of viruses. When these hemagglutinin spikes are deactivated the viruses can no longer pierce cell walls or enter the cell and replicate. It will also stimulate various aspects of the immune system including macrophage and lymphocyte function.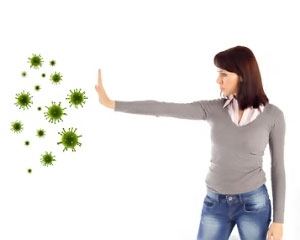 Whats the dosage?
1 pill daily to prevent flu, with a 1 week break each 4 weeks, or 6 pills daily during acute symptoms (throughout the day). If acute symptoms last more than 4 days consult your doctor.

Are there any precautions?
Generally the Defence formula is well tolerated, however if you are on medication or suffer any health problems, consult with your doctor first.

Is there any side effects?
You should not experience any side effects if taken as directed. If you suffer any adverse side effect stop taking immediately.

What do the capsules contain?
Each capsule contains:

Elderberry extract
Echinacea extract
Vitamin C
Zinc

How Long Does Delivery take?
Orders are shipped daily Monday to Friday. If you order before 2pm New Zealand customers will receive it the following business day, while international shipments take 1 - 2 weeks. We will email you a notification and tracking number once your order is dispatched.

Is it Guaranteed?
Yes. We only manufacture and sell the most quality and effective products and offer a 100% Satisfaction, 60 day, money back guarantee. See FAQ page for full details



Live reviews from real customers.
Results may vary from person to person.