Biocalcium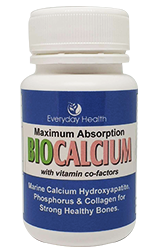 Your body needs calcium to build and maintain strong bones. Your heart, muscles and nerves also need calcium to function properly. If you don't get enough calcium, you could face health problems related to weak bones including osteoporosis.

Your body doesn't produce calcium, so you must get it through other sources. Calcium can be found in a variety of foods, including: Dairy products, Dark green leafy vegetables, and Fish with edible soft bones. Depending on how much calcium you consume in your diet you may need Biocalcium.

Biocalcium is a bio-available form of Calcium, Phosphorus & Collagen, derived from fish bones. It has been fortified with the Vitamin co-factors D3, K2 and C to work best in the body and have maximum absorption.
Whats the dose?
Most people take 2 pills daily, but really dosage depends on how much calcium is in your diet.
1 capsule contains 165mg of elemental calcium, about the same as a 200ml glass of milk. The recommended daily intake is around 1000mg

What is in these pills?
Our pills are made from fish bones, sourced as a bi-product from the NZ fishing industry.
Fish bone naturally contains calcium and phosphorus in the right ratio of approximately 2:1 to form hydroxyapatite, which is considered the most bioavailable form of calcium. Naturally occurring high levels of calcium (25.14%), phosphorus (12.75%) and collagen (14.2%), are retained. As well as many other naturally occurring minerals and trace elements, including iron, magnesium, selenium, and zinc. It also contains added vitamins for maximum benefits.

Why does it contain Vitamins?
Vitamins have been added to improve the way the dosage works in the body.

What are the side-effects?
nausea, vomiting, constipation, increased thirst or urination, muscle weakness, bone pain, confusion, lack of energy. If you have side effects lower your dose, if side effects continue stop taking and consult your doctor.

Are there any drug interactions?
Calcium can interact with many different prescription medications, including blood pressure medications, synthetic thyroid hormones, bisphosphonates, antibiotics and calcium channel blockers. If you are taking other supplements or drugs check with your doctor first.

How Long Does Delivery take?
Orders are shipped daily Monday to Friday. If you order before 2pm New Zealand customers will receive it the following business day, while international shipments take 1 - 2 weeks. We will email you a notification and tracking number once your order is dispatched.

Is it Guaranteed?
Yes. We only manufacture and sell the most quality and effective products and offer a 100% Satisfaction, 60 day, money back guarantee. See FAQ page for full details



Live reviews from real customers.
Results may vary from person to person.